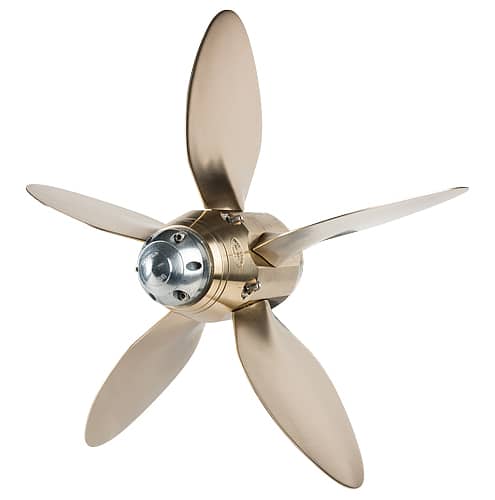 The Max-Prop Boomerang is available from 18" to 44" diameters, and for 1-1/4" to 2-1/2" shaft diameters.
The new Max Prop five blade Boomerang, feathering propeller offers an alternative to the use of a shaft brake for high speed sailboats and those with an electronic shift mechanisms. With the help of an internal spring, the Max-Prop Boomerang automatically and immediately feathers to its low drag position when the engine is shut down or put into neutral.
For decades the process of feathering a propeller has been the result of water flowing over the blades and some friction in the drivetrain once the engine had been shut down. But with the advent of more modern hydraulic transmissions with less friction it sometimes has been necessary to add a shaft brake on larger vessels to assist in the feathering of the propeller. The new Boomerang Max-Prop model eliminates this need, resulting in a lower hardware expense and less weight without a shaft brake.
The Boomerang has been in testing for over a year and is now being sold throughout the world. Several large Catamaran builders and some large custom monohulls have already adopted the Max-Prop Boomerang.
ADVANTAGES OF BOOMERANG PROPELLER
The new Max Prop propeller generation now contains an integrated mechanism, which makes automatic feathering INSTANT !
Assisted feathering

Very efficient power

Outstanding reverse and stopping power

Ultra smooth operation

Very low drag

Simple "bolt on" installation

Externally adjustable pitch

Available from 18" to 44" diameter

For shafts 1¼" to 3"

Maintains feathered position in high speed, turbulent operation