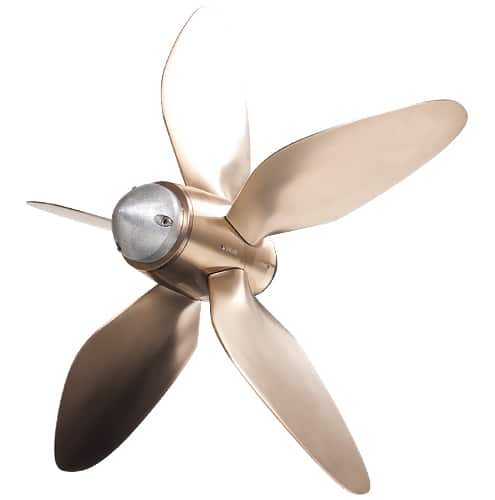 The Max-Prop Whisper is available from 18" to 44" diameters and are for 1-1/4" to 3-1/2" diameter shafts.
The Max-Prop Whisper uses five blades to provide ultra quiet operation and impressive thrust. The resulting powering performance is especially noticeable when powering against heavy wind and seas. The five blade design also provides for a substantial noise and vibration reduction in all conditions.
The Whisper is based on the Max-Prop Easy design, so it ships fully assembled, making installation and pitch changes simple and fast. The pitch is adjustable by 2 degree increments, providing the ability to fine tune the loading of the engine. Moreover, pitch adjustment can be done in the water as the propeller does not need to be disassembled to change the pitch.
ADVANTAGES OF WHISPER PROPELLER
The Whisper is designed for large vessels with heavy displacement, which can benefit from the extra thrust and quiet performance of a five blade propeller.
Easy installation

Extremely Low Drag

Efficient power

Outstanding reverse

Ultra smooth operation

Adjustable pitch