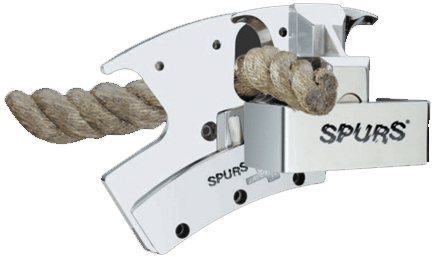 The ship cutters are designed for medium to large vessels. They instantly cut lines and nets before they become entangled. This prevents aft seal rupture, resulting oil pollution and other costly damage to your vessel.
SPURS® manufactures cutter systems for fixed & variable pitch propeller and thruster systems.
CHARACTERISTICS :
Made of hardened stainless steel.
No need to dismantle the propeller.
Certified ABS (American Bureau of Shipping)
ENVIRONMENTAL PROTECTION
With more ghost nets floating around the oceans, the possibility of wrapping net on your propeller increases daily. Oil pollution caused by seal failure is your responsibility. With SPURS® protection, your vessel can cut lines and nets before entanglement to the propeller. This avoids aft shaft seal rupture that can result in oil pollution, large monetary fines, costly repairs, and ship downtime.
FUEL CONSUMPTION
Line and nets are instantly cut before propeller entanglement. This allows props to run free, avoiding drag that occurs from line and net entanglement, obstructing water flow to the propeller and slowing the ship.
PROVEN
SPURS® has manufactured line and net cutter systems for well over 30 years and has now completed over 500 ship cutter system installations worldwide.
Razor-sharp Cutter Blade Systems are made of hardened stainless steel (17-4). Each cutter blade has (3) heat treatments to bring the blade hardness to 46 on the Rockwell scale and provide stability under saltwater.
PEACE OF MIND
A demonstration cut is made prior to vessel undocking to verify cutter blade alignment and completion of Spurs Line & Net Cutter System installation.
The Oil Pollution Act of 1990 imposes heavy penalties for oil leaks. It also orders the Coast Guard to advise vessels to immediately secure the source of the leak. Protect your bottom line with SPURS®.
Don't leave the dock without SPURS® protection!