Description
Safe For All Types of Hoses
By rolling the edges and removing perforations and ribs on the inside portion of the embossed hose band, the PYI Hose Clamp can be used on the softest hoses without worry of damage to the underlying hose surface during installation and throughout its use.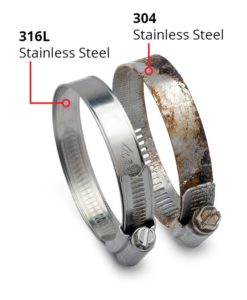 316L Stainless Steel
The PYI Hose Clamps are made entirely out of 316L stainless steel. 316/316L are the standard marine grades of stainless steel (SS) because of its superior resistance against corrosive chemicals found in salt water, de-icing salts, and corrosive industrial chemicals and acids. 316L SS utilizes a higher percentage of molybdenum, chromium and nickel than 304 SS. The addition of these elements, notably molybdenum, improves the resistance to corrosion and chloride pitting, provides a greater creep resistance, and a stronger stress-to-rupture and tensile strength at elevated temperatures.
Durable & Stable Clamping Force
The PYI Hose Clamp utilizes a durable riveting screw cage design that is machined from a single piece of 316L stainless steel which is capable of withstanding high tightening torque and internal hose pressure. Our Hose Clamps can be hand tightened up to 15.5 NM without the screw slipping or distorting the screw cage during its installation and use providing a reliably strong and stable clamping force and a long-lasting hold that is ideal for most demanding applications.