Description
Maximum Safety for Your Boat
The PSS PRO Maintenance Kit is the ultimate choice for those seeking the best in terms of performance and safety for their boat. Made with high-quality materials, this kit ensures the longevity and reliability of your PSS PRO seal.
Durability and Comfort Guaranteed
Don't let time and the elements take a toll on your boat. With our PSS PRO Maintenance Kit, you are guaranteed to get all the necessary components for effective preventative maintenance. Your boat deserves the best, and this kit is designed to provide unparalleled peace of mind.
Ease of Installation
Thanks to clear instructions and top-tier components, installation is a breeze. Even if you're not a mechanical expert, you'll be able to perform the necessary maintenance to ensure the optimal performance of your boat.
FAQ
What general maintenance should I be considering for a PSS PRO Shaft Seal that is working perfectly well with no apparent issues?
Seaview Progress recommends that you replace the bellows with the PSS PRO Shaft Seal every 8-10 years. When you replace the bellows, you should also replace the o-rings, set screws in the stainless steel rotor, and the hose clamps. In most situations, you will not need to replace the carbon stator and the stainless steel rotor.
Can I re-use my set screws when making an adjustment or removing the PSS Shaft Seal?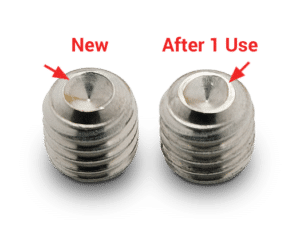 Always use new set screws on the shaft. The stainless steel rotor contains two set screws in each of its two holes. Tighten the first screw onto the shaft, and then tighten the second one onto the first to lock it against the shaft. These set screws have a base cup that you compress into the shaft to ensure a secure grip.
Seaview Progress includes five new set screws in their PSS Maintenance Kit. So, when you reinstall the rotor, always use these new screws. If you don't have spare screws, reverse the screws in the rotor so you compress an unused cup onto the shaft
2.15.0.0